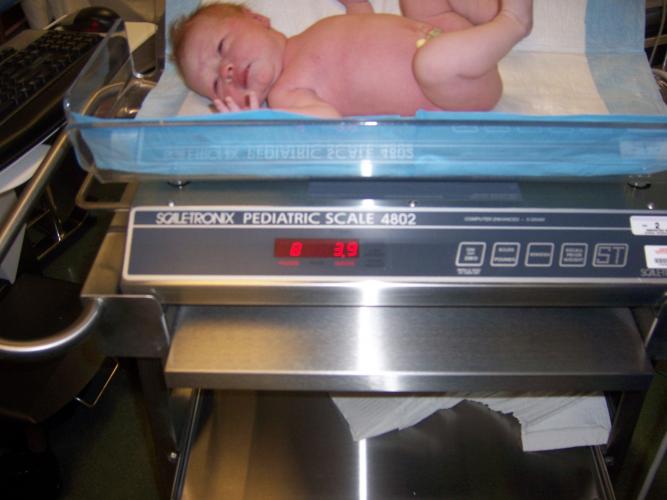 On the morning on October 10th mommy woke up and new that you were coming! Mommy was scheduled to be induced on October 12th, but you did not want to wait that long. I remember daddy came home from work and mommy made fajitas for dinner because you just can't have a baby on an empty stomach... then, we needed groceries so we headed off to daddy's favorite store Walmart, j/k. Daddy complained the entire time about how much he hated the store, but at the same time mommy's contractions were getting very strong! We had already called papa to come get big brother. Once we got home from Walmart mommy took a quick shower, then papa came over and took big brother. Then, mommy and daddy were off to the hospital to have you!
Mommy thought everything was going to be a breeze just like with big brother, but it wasn't you decided to come in with literally a bang! We arrived a the hospital a little after 8 p.m. and mommy was only at 4 cm, but those contractions were coming fast! After getting into a room and changing into one of those hot hospital gowns the doctor came in to check me (the same doctor who delivered brother) and mommy was at 7cm. They came in to give mommy an epidural and no such luck- it didn't work.... then, they came back to do another.... and no such luck.... and again!!! By this time mommy demanded someone else- about 15 minutes later they came in and you were coming there was no time. Mommy was screaming NO!!!!! They wheeled mommy off to the delivery room and after just a few very painful pushes you were out!
When I first saw you were so beautiful with your full head of redish blonde hair and big blue eyes. You looked just like brother! Only you were a whole pound smaller weighing in at 8 pounds 3.9 ounces :) I thought you were tiny and petite! The painful birth was worth every minute of getting to finally getting to see you that day. The rest of the day I spent holding you, nursing you and introducing you to all our friends and family who came to see you :)
Born in on
October 11, 2008
.